Corporate
Corporate awards and gifts for all occasions, whether you are looking to award someone's success or achievement in business, sales, service, retirement or to recognise a supplier, there are a wide variety of products you can choose from including; Plaques, glass awards, acrylic awards, business trophies, pens and keyrings. See the latest catalogues here. For more information or if you have any questions please contact us.
~ Plaques ~
Plaques are available in a large range of sizes and made from many materials including; Timber, timber and glass, timber and acrylic and custom made acrylic.
Most plaques can be laser engraved or fitted with full colour printed or engraved brass and aluminium plates with text and logos incorporated on them.
~ Glass Awards ~
Glass and crystal awards are available in a large range of shapes and sizes from simple designs (rectangles etc.) with flat cut or bevelled edges to more elaborate abstract and freeform shapes.
Internal laser engraved optical crystal can have anything from simple logos and text to complex mechanical and architectural models embedded deep inside to create a 3D image visible from any angle.
~ Acrylic Awards ~
Acrylic awards are available in a large range of ready made shapes and sizes with flat cut or bevelled edges. Custom cut shapes and designs can also be made to order to your requirements.
Most acrylic awards are clear, clear with coloured accents and coloured acrylic is also available for custom awards.
These acrylic awards can be laser engraved with text and logos.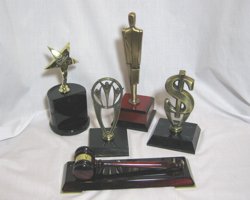 ~ Business Trophies ~
Trophies are available for sales and business achievement awards including; Dollar signs, salesperson, eagles, gavels and mounted keys. Materials include metal, timber, glass, resin or coated plastic.
A large range of items ideal for corporate golf days are also available.
~ Pens & Keyrings ~
Pens are available from a large range of suppliers including; Parker, Cross and Waterman. Items available include; ballpoint pens and pencils, fountain pens and writing sets, most of these can be engraved to your requirements.
Keyrings are available in many standard styles as well as custom designed shapes. Most can be engraved or printed with text and logos.
See Promotional, Identification & Custom for more ideas.