Giftware
Giftware for all occasions, whether its a birthday, engagement, wedding, anniversary, new baby or memorial, there are a wide variety of products you can choose from including; glass, pewter and silver products, jewellery boxes, frames, photo gifts and religious items. Most of these giftware products can be personalised, using one of our many engrave techniques.
For more information or if you have any questions please contact us.
~ Birthdays ~
Items to give for those special birthdays or all important age milestones, including; Frames, glasses, trinket and jewellery boxes, mugs, guest books, signature frames, bears and keys, photo albums, etched bottles, yard glasses, sashes, 16th, 18th & 21st diamante tiaras, keepsake boxes and novelty products.
~ Engagement, Wedding & Anniversary ~
A range of items suitable for that newly engaged couple, the bride and groom, gifts for the bridal party, or to celebrate an anniversary, including; Drinkware in silverplate, pewter, stainless steel, glass and lead crystal, cake knives and servers, candle holders, vases, bowls, frames, trinket and jewellery boxes.
~ Baby ~
Gifts for a newborn baby, or to celebrate a special religious or non religious occasion, like christenings, baptisms and naming ceremonies, including; Frames, mugs, porcelain, cutlery, birth record spoons, trinket boxes, certificate holders, money boxes, rattles, door plates, candles holders and candles, photo albums, lapel pins, gift sets, guest books, keepsake boxes.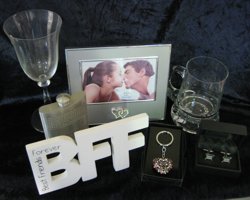 ~ His & Hers ~
A large range of items suitable for males and females of all ages, for any occasion, like graduations, mothers or fathers day, valentines, christmas or just to say thank you, including; Pewter tankards and goblets, frames, desk items and pens, cufflinks, glass drinkware, bar accessories, keyrings, compacts, jewellery boxes, silverware, trays, and decorative glass items are some of the many items available.
~ Religion ~
Items for all religious occasions including; Holy communions, confirmations, bar mitzvahs and bat mitzvahs, including; Trinkets, angel figurines, crosses, pens and desk items, bookmarks, frames, albums, jewellery and jewellery boxes, ornaments, rosaries, lapel pins, bags, veils, headpieces, handkerchiefs and sacramental sashes.
~ Photo Gifts ~
A range of products are available ready for us to decorate with your favourite
photo and text, including; Plaques, mouse pads, phone and tablet covers, mugs, placemats, coasters, stubby holders, jigsaws, bookmarks, bag tags, cushion covers, bags, t-shirts, baby items, pet products, sports items, porcelain ornaments and balloons.
~ Etched Bottles & Boxes ~
We can etch a message onto your bottle for any occasion; Birthday, engagements, weddings, new babies and corporate events are a few of the most popular events. Motifs can also be added with the text.
Wine boxes in timber with clear or solid lids and wine box sets are also an alternative to etched bottles or as a complimentary item.
**Note: We are not licesened to sell alcohol so your own bottle of wine, port, etc is required (no champagne or other pressurised bottles).
~ Personalised Keepsake Candles & Holders ~
Keepsake candles for all occasions made to order. Round and square pillar candles in white or ivory decorated with gold or silver text, a photo or motif of your choice and ribbon if required. Choose from wedding unity sets to single pillars and bomboniere gifts or memorial candles.
We also have a range of candle holders in silver and crystal. If you prefer to use plain undecorated candles then choose a candle holder that can be engraved instead.
~ Memorial ~
We understand the loss of a loved one can be devastating, so we have a range of memorial products, most of which can be personalised to enable you to remember your loved one, including; Candlesticks, personalised candles, crosses, float vases, ornaments and small plaques.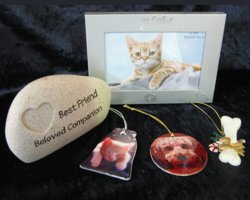 ~ Pets ~
Everyone loves their pets, and we have gifts for them as well, including; pet frames, tree ornaments, pet certificates and pet tags.
Timber ashes boxes and small garden signs are a wonderful memorial idea and a reminder of your special pet.