Identification
Identification products for all needs, whether you are looking to identify staff, committee or conference members, school leadership groups, medical or allergy alerts, personal property or pets, there are a wide variety of products you can choose from including; Name badges, school badges, club badges, medical and allergy ID, tags, labels, pet tags, desk plates and conference supplies. For more information or if you have any questions please contact us.
~ Name Badges ~
Name badges are available in a variety of sizes in metal, plastic and a combination of metal and plastic. Custom shaped badges or cast badges can be made to your requirements.
Badges can be laser engraved or printed with your required text and/or logos and crests.
Clear epoxy doming can be applied to the front of the badge for extra protection. Pins, clips or magnets can be used to hold your badges in place.
~ School & Club Badges ~
School and club badges and bars are available in a standard range of titles including; School captain, prefect, house captain, president, secretary, treasurer, committee and more, in a range of colours.
A range of badges and bars are also available for sports including; Golf, lawn bowls and ten pin.
Custom made badges can be arranged, and can include; School or club crests, band badges, lapel pins or any non-standard title bars.
~ Medical & Allergy ~
Medical and allergy ID is available in a special range of brass and stainless steel jewellery that is lead and nickel free, for men, women and children including; Bracelets, necklaces and keyrings.
Medical and allergy ID can also be made from a range of our personalised identification products including; Bag tags, keyrings, military style dog tags and phone cases for iPhone 4/4S, iPhone 5, Samsung Galaxy S2 and Samsung Galaxy S3.
~ Pet Tags ~
Pet tags are available in a range of standard tags made from aluminium, brass and nickel plated, in many shapes and colours to attach to your pets collar. Tags can be engraved or printed with yours and your pet's details.
Premium cast tags are available in a range of designs including; Paw prints, bones, sayings and rhinestones. These tags can be engraved on the back.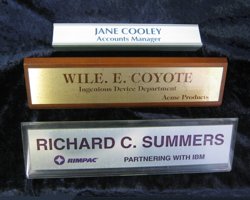 ~ Desk Plates ~
Desk plates are available in a range of materials including; Timber, timber and metal, metal, acrylic and glass. Items such as your name, position and company logo can be engraved or printed onto the plates.
Accompanying stationery items are available for some of the styles of desk plates including; Holders for pens, business cards and sticky note pads.
~ Conference Supplies ~
Lanyards are available in a generic range of styles in plain colours. Custom lanyards with your required logo or event name in multiple colours can be made to order.
Clear plastic ID or card holders are available to complement the lanyards or with pin/clip attachments for stand alone use.
Security wristbands available in plain coloured Tyvek material that are stretch resistant, water resistant and have a tamper proof adhesive seal designed to tear when removed. Custom silicone wristbands are also available for larger orders.