Ribbons
Ribbons for all occasions, whether its for birthdays, cake decoration, hens nights, presentations, awards, cardmaking, gift wrapping, or lapel ribbons, there are a wide variety of products you can choose from including; Printed ribbon rolls, sashes, opening ribbons, car ribbons and bows, place ribbons, show ribbons and memorial ribbons.
For more information or if you have any questions please contact us.
~ Printed Rolls ~
Our rolls of double sided satin ribbon are available in widths of 10, 15, 20 & 25mm and over 25 colours. Ribbons can have text, logos or motifs printed in one print colour, which are available in a range of metallic and plain colour finishes.
Rolls of ribbon are suitable for wedding bomboniere, cardmaking, corporate branding, promotional and gift wrapping and with our low minimum order everyone can have ribbon personalised. You can also buy matching plain ribbon if required.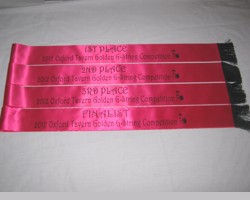 ~ Sashes ~
Custom made body sashes in adult and children's sizes are available in over 30 colours. Sashes can have text, logos or motifs printed in one print colour, which are available in a range of metallic and plain colour finishes. Sashes can have fringed ends applied and come with a standard velcro fastening
**Note: White sashes can have full colour printing applied.
Sashes are suitable for birthdays, hen's nights, school formals, pageants, graduations, religious occasions or any other special event.
~ Opening Ribbons ~
Opening ribbon can be made using our wide ribbon, which is available in over 30 colours and can have corporate logos and text printed in one print colour, which are available in a range of metallic and plain colour finishes.
**Note: White ribbon can have full colour printing applied.
See Custom for more on brass, bronze or stainless opening plaques.
~ Car Ribbons & Bows ~
If you are giving an oversized gift such as a car, then dress it up with a custom bow and ribbon. Bows can be made in a variety of sizes and colours to suit the gift.
Personalise your wedding car with your name and wedding date on our 50mm car ribbons. White, ivory or coloured ribbon is available with your choice of metallic or plain print colours.
~ Place Ribbons & Pennants ~
Our most popular 5 x 20cm place ribbon can be custom made to your event. Printed in standard metallic gold or silver foil, we can also add school crests or other motifs. Other sizes and print colours are also available.
We can also produce full colour printed place ribbons & pennants to your requirements. Small pennants available from 10cm up to 30cm wide finished with dowel rod, end caps, cord and fringe.
~ Show Ribbons ~
We can produce single, bi-colour and tri-colour ribbons for your next pet or agricultural show. Ribbons are available in a large range of sizes and colour combinations and trimmed with fringe and braid as required.
Combine these with our custom body sashes and stock rosettes for a total package.
~ Awareness, Fundraising & Memorial ~
Plain or printed lapel ribbons for any occasion or fundraising event. Lapel ribbons are printed in a range of colour prints on our coloured satin ribbon and can include text and motifs. Ribbon can be supplied on the roll, pre-cut or fully assembled.
Personalised ribbon printed with a name or sympathy message can add a special touch to memorial and funeral services, they can be used on casket sprays and other floral arrangements.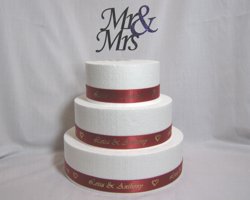 ~ Cake & Party ~
Custom printed ribbon can be used to add an extra touch of personalisation to a birthday or wedding cake.
Use printed ribbon for table and room decorations, to add to balloons and floral bouquets, wrap gifts, for small table banners, event wristbands or any use you can think of.